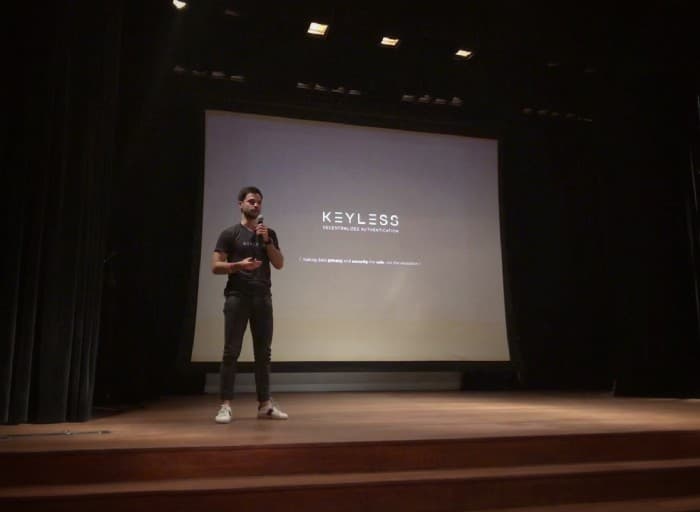 Introducing Keyless, a deeptech cybersecurity company building the world's first, truly private, biometric authentication and personal identity management platform that combines multi-modal biometrics with advanced cryptography.
Hi and welcome to the official Keyless blog!
It's been an incredibly busy, intense and exciting first year! We can't wait to share more about the problem we're solving, our breakthrough technology and the unique solutions we are pioneering!
But first, we'd like to start by introducing ourselves — Andrea Carmignani, Fabian Eberle, Dr. Giuseppe Ateniese and Dr. Paolo Gasti — and how we've come together with our dream team who will be contributing to this blog.
Meet Andrea
Andrea has a long-standing curiosity and interest in emerging technologies, which can be traced back to his childhood, where as an eight year old child, his father taught him how to assemble PCs and code — the early days of the internet, with DOS and HTML, services like Napster, and TCP/IP and DNS protocols.
By the time he celebrated his sixteenth birthday, Andrea had already started organizing major music festivals in Rome. He soon became an angel investor — funding startups in the tech space all the way into his early twenties.
Before founding Keyless, Andrea sold and managed multi-million digital transformation projects in Europe and the Middle East, while working as a Strategy Consultant for Accenture and Roland Berger.
In his MBA motivation letters, he mentioned how Bill Gates and Steve Jobs legacies had a tremendous impact on his life, motivating him to do something different. Real innovation. What we do at Keyless today.
Meet Fabian
Like Andrea, Fabian has always been interested in emerging technologies and their potential to transform the way businesses and people interact across continents and cultures.
As a young boy, he loved spending time playing computer games, ordering various parts to build and optimize his PCs so that they were built for gaming specifically. His decision to study Business Informatics came as no big surprise to his friends and family.
Fabian started his career in enterprise software with SAP at their headquarters in Walldorf, Germany, with stints in New York and Shanghai, while graduating from University of Ludwigshafen am Rhein and Tongji University. He later joined McKinsey in their Business Technology practice, where he led and managed digital strategy and transformation projects across the globe for several years.
In his MBA motivation letters, Fabian wrote about building and leading a technology business that would have a fundamental impact on people's lives later on in his career, not knowing just how soon we would start with Keyless.
Meet Giuseppe
Giuseppe, our third co-founder is ranked among the world's 10 most influential security and privacy scholars.
He is a world renowned cryptographer, and currently the Department Chair of Computer Science at Stevens Institute of Technology.
Giuseppe is particularly interested in digital identity and was immediately drawn to the idea for Keyless — seeing it as a novel way to combat shared secrets, fake accounts and stolen identity.
He has devised several innovations in the security and privacy domains throughout his career. These include proxy re-encryption technology, proof of storage, proof of integrity, and 'editable' blockchain.
Meet Paolo
Our fourth co-founder is the renowned scholar Paolo Gasti. Paolo's areas of expertise span from behavioral biometrics to privacy-preserving biometric authentication and identification, secure multi-party protocols, and network security.
Paolo is passionate about finding new ways to use cryptographic techniques to protect users and their privacy.
As a young boy, Paolo was fascinated with computers and electronic devices. In high school, he could always be found tinkering with computer hardware and building cryptographic schemes with the intention to eventually break into them.
He's served as a member of the Named Data Networking project, sponsored by the National Science Foundation, that goal is to design a future internet network architecture.
Paolo's work has been sponsored by the Defence Advanced Research Projects Agency and the National Science Foundation. He previously worked as a research scholar at the University of California, Irvine, and is a Fulbright fellow.
How did Keyless come together?
Andrea came up with the idea for Keyless in early 2017 while teaching himself about blockchain technology and its potential to transform digital services.
During a field trip to Israel he learned more about biometric technology, at a time Apple acquired facial recognition capabilities to build FaceID. This sparked the idea to combine this technology with encryption methods — inspired by the power of blockchain and decentralized applications — to create a solution that would allow people to securely store and share any kind of digital asset, content or confidential information, such as personal memories, passwords, digital assets or private keys, with their loved ones at any time in the future.
We — Andrea and Fabian — then met on a pre-MBA trek in Italy just before beginning our Masters of Business Administration at INSEAD — one of the world's most renowned business schools. Immediately, the two of us connected over our mutual interests in blockchain and disruptive technologies, with the goal to start up a company together throughout the MBA year.
During our course, we took part in INSEAD's Venture Competition with the idea to build on Andrea's original "time-capsule" or "digital vault" product. While working on developing this idea, we quickly realised that the problem to be solved was so much bigger: authentication and identity management are fundamentally broken.
We noticed that the internet was lacking a universal identity layer that, if present, would enable users to maintain control of their personal information and identity.
This architectural flaw jeopardises user's privacy and security, while also putting businesses at security and compliance risk.
"We're at a tipping point. How we respond to this abuse will determine whether the web lives up to its potential as a global force for good or leads us into a digital dystopia." — Tim Burners Lee
To solve this deeply rooted problem, we set out to create a universal solution that leverages advanced biometric technology to allow anyone to use their own body — or "who they are" — to authenticate themselves across the digital world.
We soon managed to pitch our idea to Prof. Giuseppe Ateniese, one of the world's leading cryptographers, who serves as an advisor to a company Andrea previously invested in. Excited by the idea after hearing it over lunch with pizza and pasta at Rome's Termini Station (yes, for real, and it couldn't have been more genuine), Giuseppe agreed to join the adventure as third co-founder.
Giuseppe then convinced his former PhD student, Dr. Paolo Gasti, to join the team as a fourth co-founder. Paolo had been working at the intersection of biometrics and cryptography for over a decade and had established his own reputation as an expert in privacy technology and biometric authentication.
Building out our dream team
Excited by the idea of turning their research into tangible technology, some of Paolo and Giuseppe's former students who worked with them on privacy and security technologies left their jobs to join us early on — recognising the opportunity to fundamentally transform the way people interact with the digital world.
Since then, we have been incredibly busy building a highly experienced team, which is now about 20 people strong, including dozens of high-caliber PhDs and seasoned industry experts specialising in the fields of computer science, cryptography, machine learning and biometrics.
What's on the horizon?
"We envision a world where anyone can seamlessly access any digital service from any device, at any time, while keeping personal credentials safe, private and under control. Where the only key is you. A world that is Keyless."
Initially, we are focusing on developing secure privacy-preserving biometric authentication solutions using our proprietary zero-knowledge technology.
We plan to launch our first product to the public early next year — the Keyless Authenticator. Stay tuned for news on our groundbreaking biometric authentication solutions.
.   .   .
We hope you enjoyed this introduction to how Keyless came together. Our team will be making some important announcements in the near future. To stay up to date, please follow us on LinkedIn and Twitter — @KeylessTech!
Until next time,Andrea, Fabian, Giuseppe and Paolo