Just in case you weren't able to make it, we've wrapped up the most important lessons from our latest webinar with Auth0!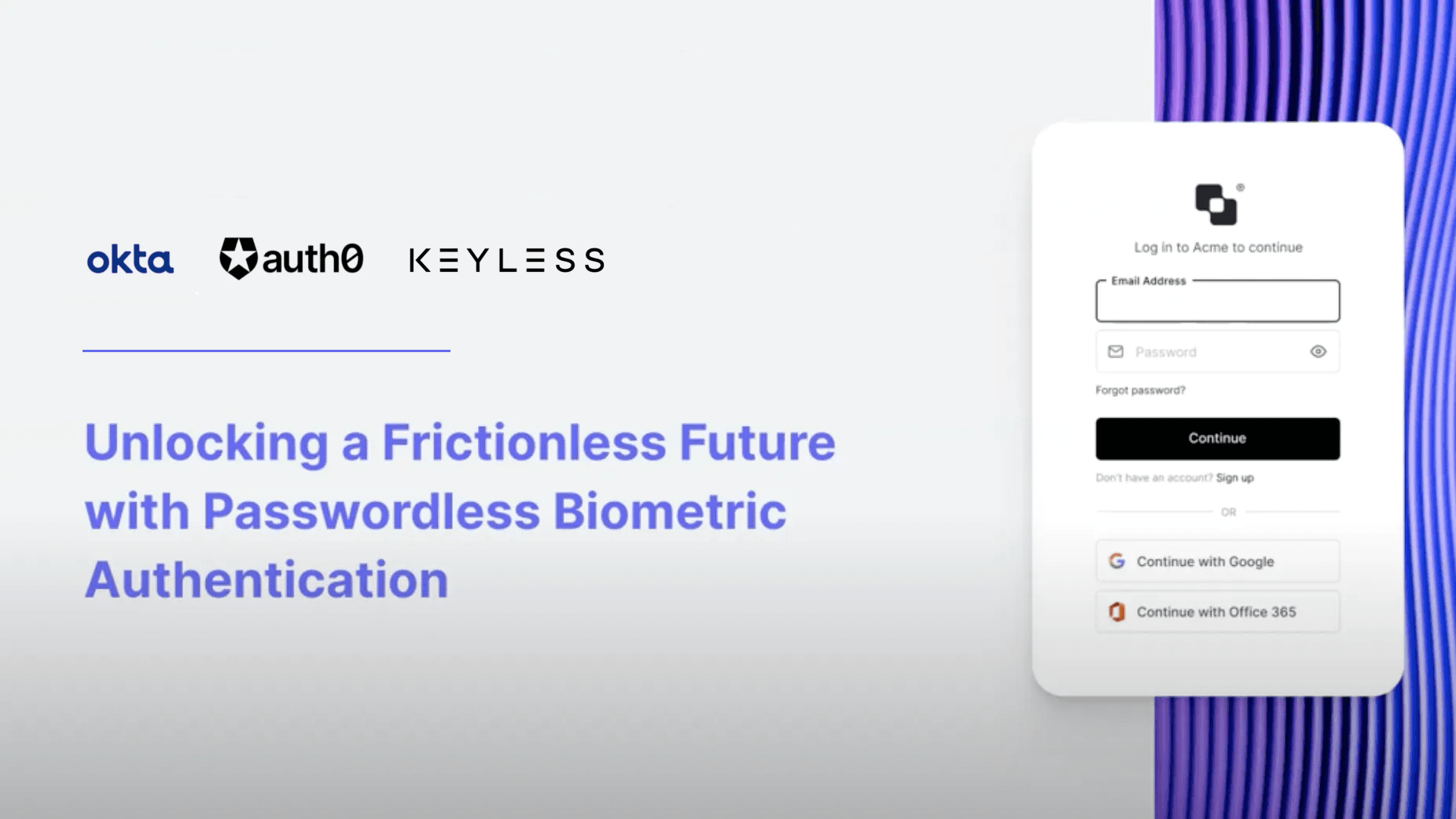 Last week our co-founder Fabian joined Auth0's Head of Partner Enablement, Tobias to discuss how organisations can build for the future of identity, and leverage new regulations to make strong authentication their competitive advantage.
Here are the most valuable points from our key takeaways: 
Balancing user friction alongside security and privacy is the biggest challenge facing regulated companies and businesses 

Passwordless login can increase conversion rates by 50% 

Being able to federate identities can help improve assurance and protect against unauthorised access

1 in 2 customers would sign up for biometrics, however, only 1 in 5 companies offer biometric authentication 

1 in 10 apps still don't offer multi-factor authentication, despite 1 in 2 end-users expecting it 

Navigating the evolving identity landscape is challenging, Keyless and Auth0 are here to guide you as you review and modernise your offerings
Identity assurance and user friction – finding the right balance
One of the key things we discussed during yesterday's webinar was how you can find a competitive balance between strong security and frictionless user experiences. 
Tobias rightly pointed out that businesses that integrate overly complex login solutions tend to drive customers away from their platforms and services, and this can quickly result in lost revenue, as well as a profound decrease in overall customer satisfaction. 
In contrast, businesses that offer intuitive solutions – like passwordless social login – are reporting up to a 50% increase in online conversions. 
Yet despite the clear business case for implementing a passwordless solution into your digital applications and platforms, many of you may still be hesitant to part with traditional multi-factor authentication methods due to perceived security and privacy risks, and an increasingly unforgiving regulatory environment.  
So many of you may be grappling with the age-old dilemma: should you prioritise strengthening security and privacy, or reducing friction and increasing revenue? 
As Tobias and Fabian pointed out, Keyless and Auth0 are helping to solve this long-standing trade-off – making it possible to provide frictionless digital experiences while meeting strict compliance requirements.
"Identity is at the intersection of convenience, privacy and security – it is the place to make (or break a good impression"
Face ID and other local biometric authentication solutions leave much to be desired
Keyless stands out from other popular biometric authentication solutions (most notably FaceID) because our technology does not rely on the devices current features and capabilities.
Instead, we've developed our own secure biometric software that can be used on any device – and as a testament to our technology, we're one of the only authentication vendors in the world to have achieved FIDO Biometrics and FIDO2 Certification – the highest level of international certification in biometric authentication and security.
Our certified software can be used on any modern device with a front-facing camera – whether that be a tablet, laptop or mobile – or an Apple, Samsung, Google, Windows or Huawei. This, along with our advanced encryption technology, is one of the key reasons why Keyless is attracting partners like Auth0.
The ability to use Keyless across different devices and brands, Fabian explained, also means your end-users only need to register for biometric login once. Once they've registered, those same biometrics are recognised across all of their trusted devices. This enables users to self-manage device revocation and account recovery – dramatically reducing the burden on your support teams. 
It also makes it impractical for end-users to allow friends and family to access their accounts using FaceID or equivalent on their own devices (aka credential sharing) – as trying to login with a different set of biometrics on another device will result in the user being locked out. 
It's possible to verify identity at every touch point 
What really sets our technology apart is that we can verify an end user's identity at every touchpoint – all without compromising on privacy, security and the user having to repeat extra identity verification steps across new devices – a clear win-win. 
Again, Keyless can do this because we do not rely on the device's in-built technology.
You can adopt passwordless biometric authentication without breaching GDPR
Thanks to breakthroughs in privacy-enhancing technologies, it's possible for us to provide secure biometric authentication without you needing to worry about your end-user data being stolen, leaked or otherwise compromised. 
As Fabian explained during the webinar, Keyless uses a patented combination of technologies to ensure encrypted biometric data can never be used to reconstruct a user's original biometrics – and that no one ever has a complete encrypted template. 
For more info on our breakthrough technology, check out our whitepaper.
There's still time to make passwordless your competitive advantage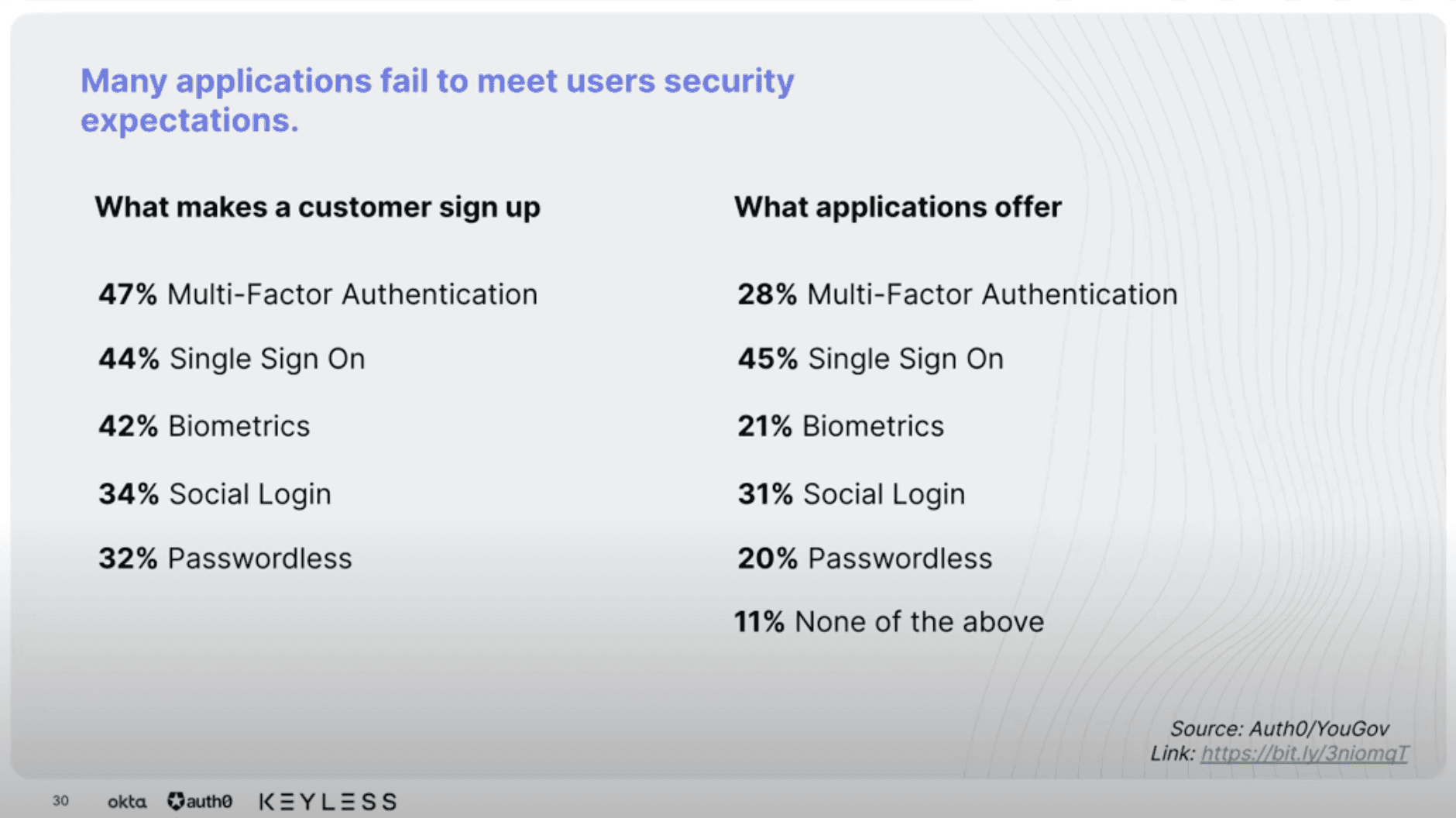 During the webinar, Tobias shared interesting data comparing end-user attitudes towards different types of strong authentication solutions compared with what applications currently offer.
The biggest takeaway from this is that frictionless strong authentication solutions are not yet a commodity and that you can turn strong customer authentication requirements into your competitive advantage by adopting solutions that balance strong security, privacy and user experience – as Keyless does!
Auth0 and Keyless can support you on your identity journey
 The last, and potentially most important, takeaway from yesterday's webinar was that your identity and authentication partners are there to serve you. Auth0, or whichever vendor you use to manage identities, can help guide you while you navigate staying compliant and competitive in an evolving identity landscape.
Similarly, Keyless is here to help support you when it comes to authentication and knowing which authentication solution is best for supporting you and your unique business case. 
Watch the full webinar here
Ready to start your passwordless journey? Get started today.
Whether you're looking to enhance security for your customers, employees or business partners – Keyless is here to help. Our FIDO2-certified, biometric software solutions can help modernise the way you manage identities across all touch points – while ensuring unparalleled privacy for all your end-users. 
Existing Auth0 customers can check out Keyless on the Auth0 Marketplace.
Alternatively, you can visit our solutions page, or reach out a Keyless expert to learn more about how we can support you in your passwordless journey.