2020 has been a year like no other. Yet despite the many challenges we've faced — we've managed to scale our company and launch a full suite of passwordless authentication products and services for the enterprise.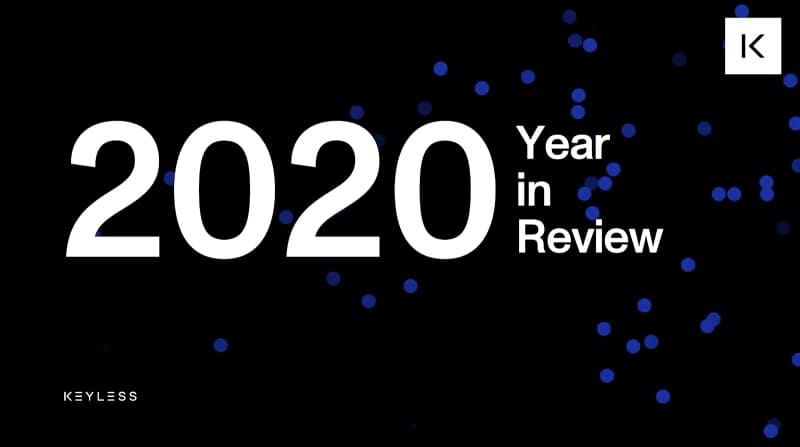 The year that pushed the world to passwordless
Like all businesses, new and old, we've had our company direction rerouted by the result of unprecedented travel restrictions, lockdowns, a global recession, and the tumultuous political and social movements that captured and held the attention of people all around the world.
The events of this unforgettable year forced businesses to adapt to how they operate — and one positive outcome we noticed is that this has catapulted enterprises into an era of accelerated digital transformation. We've seen unprecedented recognition for the need to protect critical systems and data with zero-trust security solutions — and as a result we're seeing an increasing appetite for passwordless authentication solutions like ours, that are powered by privacy-first technology.
In what was already a turning point year for passwordless authentication, the urgency for privacy-first, zero-trust solutions has been continually fueled by high profile hacks and breaches such as the Russian led Solar Winds Attack on the US government agencies, the Twitter hack that targeted the followers of high profile users and the ongoing Spotify hacks… to name just a few.
Read more on what our CTO and co-founder has to say on COVID-19 driving adoption of passwordless solutions…
How far we've come in just one year
At this time last year, we'd only just finished building out our platform's core technology — the Keyless Protocol. The Keyless Protocol combines privacy-enhancing technologies with modern biometrics to enable real-time biometric authentication powered by the Keyless Network. The Keyless Network utilizes a distributed cloud architecture to process and store encrypted authentication data.
Breakthroughs in biometric authentication
We successfully applied for five patents to date for our novel technology — of these, one is a non-provisional patent, and four are provisional. Our breakthroughs in privacy-first, distributed biometric authentication are enabling a shift away from device-dependent authentication, towards a more unified and user-friendly authentication experience.
The breakthrough shift from device-dependent biometric authentication, to device in-dependent biometric authentication, means we can use a single, universal set of biometric templates to authenticate and identify users across multiple devices, in a way that enhances privacy compliance, rather than impeding it.
As a result we're able to provide secure, private and user-friendly solutions that can help solve some of the larger issues around how we manage identities across the internet.
Ensuring Privacy and Security Compliance
Since biometric data is considered sensitive, personal information, the use of biometrics is regulated in accordance with the General Data Protection Regulation (GDPR) in Europe, and other similar regulations around the world such as the California Consumer Privacy Act (CCPA) in the United States.
We've made significant headway validating our compliance stance with these regulations, as well as with directives such as the Revised Payments Services Directive (PSD2), which mandates what strong-customer authentication solutions should provide.
In total we've completed five compliance assessments this year, and have been actively engaging industry alliances, such as the FIDO Alliance, to educate certification bodies around the benefits of applying privacy-enhancing technologies and distributed cloud systems to biometric-enabled authentication.
Rapid growth, and US $6.2 million in backing
This year we not only scaled our team, going from 15 to 32 employees in under twelve months, which forced us to move into brand new offices in the centers of Rome and London. We also brought our funding to US $6.2 million — a tremendous sign of confidence in uncertain times.
Putting Keyless on the passwordless radar
In just one year, we've managed to build, test and launch a total of five products that serve the full spectrum of enterprise use cases for workforce and consumer passwordless authentication.
Our workforce authentication products suite includes passwordless authentication solutions for single sign-on (SSO) with providers such as Okta and Microsoft, VPN, Virtual Desktop Infrastructure (VDI) and Windows Workstation Login — all powered by the Keyless Authenticator.
Check out our Workforce Authentication solutions here…
The Keyless Authenticator is an app that users or employees can download on any of their devices to enable seamless, privacy-enhancing access to all of these services.
For consumer authentication, we offer the Keyless SDK for both Android and iOS platforms. The Keyless SDK can be integrated into existing applications in a matter of hours. It offers fast, secure and frictionless, consumer multi-factor authentication (MFA) powered by the Keyless technology.
Check out our consumer authentication solutions here…
On top of launching these products, we've partnered with the leading IAM and cloud providers so that customers can integrate and deploy our passwordless solutions quickly and easily.
We've so far partnered with Microsoft, Okta, and ForgeRock to help expand their identity management solutions with privacy-first passwordless authentication. We've also partnered with IBM and Cisco.
Partnering with Cisco to help universities adapt quickly to remote-learning
One of the achievements our team is most proud of is the first commercial deployment of our passwordless authentication technology in the education sector.
This year, we partnered with Cisco to help Luiss Guido Carli University, one of Rome's leading higher education institutions, facilitate secure, remote authentication for students and staff during online classes and exams.
Unlike other passwordless solutions, Keyless offers Unique Student (or user) Identification. We can offer this feature because, with Keyless, users have one universal set of biometric templates that are used across all their devices and accounts. This means that it's impossible for users to login to their accounts on another device using a different set of biometrics, essentially giving our clients much higher assurance that a user is who they claim to be online.
While Luiss University was a huge success for us, it wasn't the only deployment we've been working on this year.
10 customers, 5 sectors, 3 continents
Luiss University was our first live commercial deployment, however we currently have a number of customers in the Banking and Fintech and Aerospace and Defense industries who are all currently testing Keyless in pilot stage within their organizations.
Between these customers, we're currently processing five thousand biometric authentication requests per day from approximately 15 thousand users.
$600k secured in awards and recognized by Gartner
Bans on international travel this year didn't stop us from being invited to participate in a number of technology and cybersecurity competitions around the world. Some of these competitions have awarded us with cash-prizes, which are going directly into improving our product and services. A special thanks to B2B Startup in South Europe, Startup in Italy, BNP Paribas, Startup in Slingshot 2020 Global and Banking Tech Awards.
We were also identified by Gartner as a leading biometric vendor in this year's Hype Cycle for Identity and Access Management Technologies. It's particularly encouraging to be recognized by Gartner as one of the leading biometric solutions that's helping companies tackle the evolving threat landscape head on.
This year, we've not only witnessed the fast-tracked adoption of cloud-first platforms, zero-trust technology and passwordless authentication, we've seen what impacts a lack of preparedness and unrealized digital strategy can have on organizations who are faced with unforeseen challenges. By merging modern biometrics with zero-trust, privacy-enhancing technologies, we're able to provide a breakthrough scalable solution that can readily help companies on their journey towards a more secure and private future.
We're humbled and excited by the industry recognition we've received for technology so far — and believe this proves that the demand for solutions that place equal importance on user privacy, security and usability is limitless.
Our co-founder, Fabian Eberle, talks about the future of enterprise security and biometric authentication in this short video.
What does the next year hold?
Out of darkness often comes light, and so we are hoping that as we head into a fresh year, that despite the urge to return to normal, that we are able to maintain the momentum gained during the last twelve months.
With the shift to remote and flexible work and the subsequent increased importance on being able to verify that someone is who they claim to be online, organizations around the globe are starting to recognise why we must act fast to converge authentication with identity proofing in the online realms. It's not simply enough for a user to prove that they know or have something, they must also prove that they are who they claim to be — something that can only be achieved using advanced biometrics combined with machine learning.
We are confident that organizations sustain their interest in adopting solutions that leverage emerging technologies to enable more secure, reliable and privacy-focused authentication and identity management.
For us as a company, we plan to continue helping enterprises on their path towards a zero-trust, passwordless future by building out capabilities for our workforce and consumer authentication solutions, while accelerating our go-to-market efforts in Europe.
Some of our best content in 2020
A beginner's guide to Shamir's Secret Sharing
Take a deep-dive into one of the core building blocks of Keyless. Shamir's Secret Sharing enables the secure transfer of encrypted biometric templates to and from our network.
What could have prevented 2020's massive Twitter Hack
One of the biggest breaches to capture our attention this year was the Twitter attack that targeted the likes of Jeff Bezos and other high profile users… read our blog to learn how Keyless could have stopped this breach.
Local Authentication vs Keyless pt. 1
In this piece we take a look at the usability and security limitations faced by some of the most well known authentication solutions on the market
Local Authentication vs Keyless pt. 2
Keyless offers enhanced security, privacy and usability than other biometric authentication solutions — in this piece we explain how.
. . .
Request a personalized demo of Keyless
Keyless™ authentication can help deliver secure and seamless digital experiences for your end-users and for your increasingly remote workforce.
Head to our website to learn more about our biometric authentication and identity management solutions.
Alternatively, you can email us directly at info@keyless.io